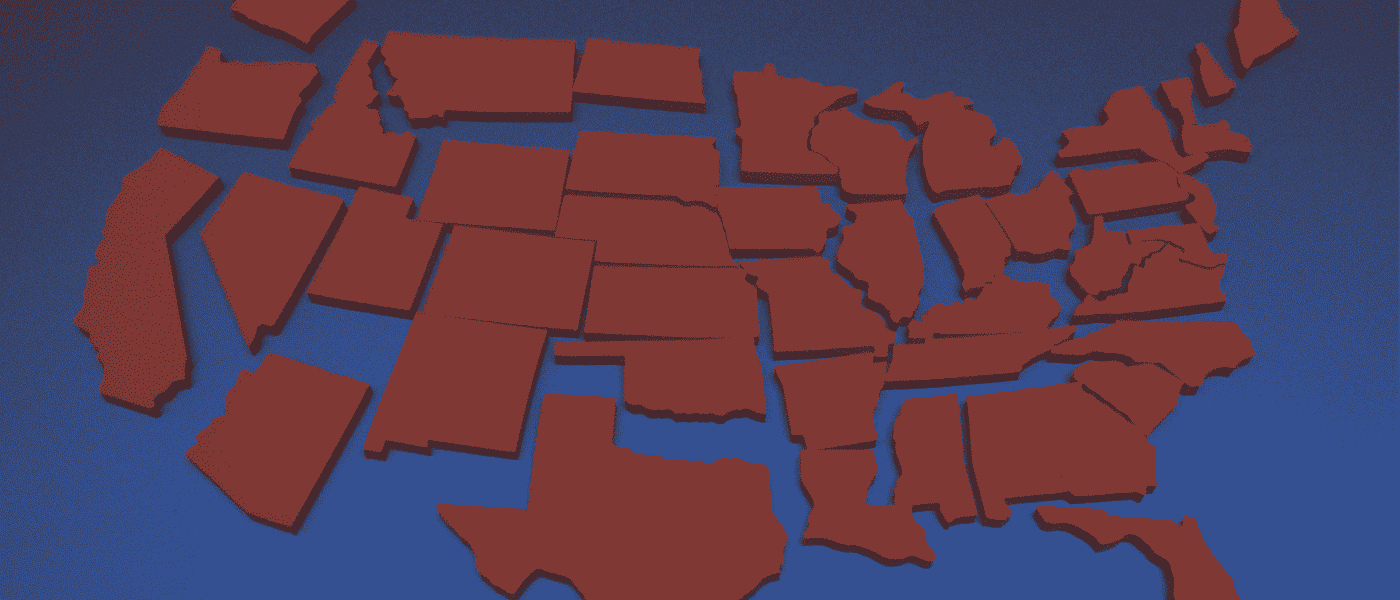 Legal sports betting is sweeping across the nation. Still, the four most significant states in the country, California, Texas, Florida, and New York, have proved nearly immune to its siren song. The topic has been broached in all four locales, but aside from retail sports betting in the Empire State, they've repelled sports betting legalization attempts.
That has frustrated the industry, but it's not surprising, provided you understand these states' history and structure. It's also important to realize that not every state can be New Jersey or West Virginia. Most require a long lead time before they expand gambling – for instance, gambling expansion legislation only passed in Pennsylvania and Michigan after five years of discussion and debate.
In this column, I'll examine the underpinnings that have stymied legalization in each of the Big 4 states and when they might get a sports betting bill, or an online gambling bill, across the finish line.
Size Matters
With a combined 110 million residents, those four states account for roughly 1/3 of the US population.
California – 39,512,223
Texas – 28,995,881
Florida – 21,477,737
New York – 19,453,561
To put these numbers in perspective, Pennsylvania, Illinois, New Jersey, and Indiana, the four most populated states with legal online sports betting, boast a combined 41.5 million residents.
As such, each of these states is important for US sports betting and online gambling.
California: Too Big Not to Fail
California is the most populous state in the US, the world's fifth-largest economy, and the US's largest gambling market. That means there are many powerful competing interests in the state and numerous rifts between these groups, including the horseracing industry and its associated unions, the 77 tribal casinos, the 86 commercial cardrooms, and the state lottery.
Then there is the complicated regulatory structure that includes numerous tribal regulatory agencies and a bifurcated (and often criticized) regulatory model overseeing commercial gambling. Not to mention the numerous legislative hurdles, from high turnover rates in the Assembly to 2/3 majority votes for any legislation that includes tax revenue.
Basically, you should view California as a country, not a local government, where everyone is on the same page. With that in mind, California could very well be the last state on this list to authorize online sports betting or pass online gambling.
Texas: Likes Its Gambling Illegal
Despite being steeped in gambling lore, especially when it comes to poker, Texas has a strange aversion to legal gambling.
Legal gambling options are nearly nonexistent in the Lone Star State, and discussions about expanding gambling can best be classified as preliminary.
That said, the lack of gambling in Texas could work in its favor. With COVID-19 decimating state budgets, the state's gambling well has yet to be pumped. The state's unlikely to go down the casino route without a lot of research and debate, but sports betting or even online poker seem like viable options, and as gambling games of "skill" they're less likely to cause an anti-gambling uproar.
Texas is one of those states that when it decides to move, it will move fast. The question is, will it move?
Florida: Strange Bedfellows Have Created Hurdles
Florida only has a couple of things working against it. Unfortunately, those two things are the immovable object that is the Seminole Tribe and the irresistible force that is Disney.
Despite owning a few assets tangentially connected to gambling, Disney is about as anti-gambling as it gets. And it has found a strange bedfellow in the Seminole Tribe, which operates Florida's casinos, as both favored the successful 2018 referendum that required all expansions of gambling to go before the voters:
"This amendment ensures that Florida voters shall have the exclusive right to decide whether to authorize casino gambling by requiring that in order for casino gambling to be authorized under Florida law, it must be approved by Florida voters pursuant to Article XI, Section 3 of the Florida Constitution. Affects articles X and XI. Defines casino gambling and clarifies that this amendment does not conflict with federal law regarding state/tribal compacts."
Many have pointed to this law as giving the Seminole Tribe final say on gambling expansions in the state, although there is an argument to be made that expansion doesn't include sports betting.
The bottom line in the Sunshine State is this: Sports betting and online gambling will only happen on the Seminole Tribe's terms. And so far, there's been little headway made.
New York: Politics Is the Name of the Game
Every year New York politicians tell us they're making progress towards authorizing online poker or online sports betting. And every year, that progress amounts to diddlysquat.
The New York Senate has no trouble passing gambling expansion bills and has done so several times with overwhelming majorities. The Assembly is a different matter. The lower chamber is unwilling to even bring them to the floor for a vote, with key players pointing fingers at one another or the executive branch.
There's some behind the scenes hope that online sports betting will be on the table once Gov. Andrew Cuomo is out of the picture in 2023, but the political hurdles in the state extend beyond the governor's office. Still, it's hard to give up on the Empire State, no matter how many times it lets us down.
COVID-19 is a big x-factor, as the state is scrambling to find revenue after watching its tax base get depleted, so 2021 isn't out of the question.