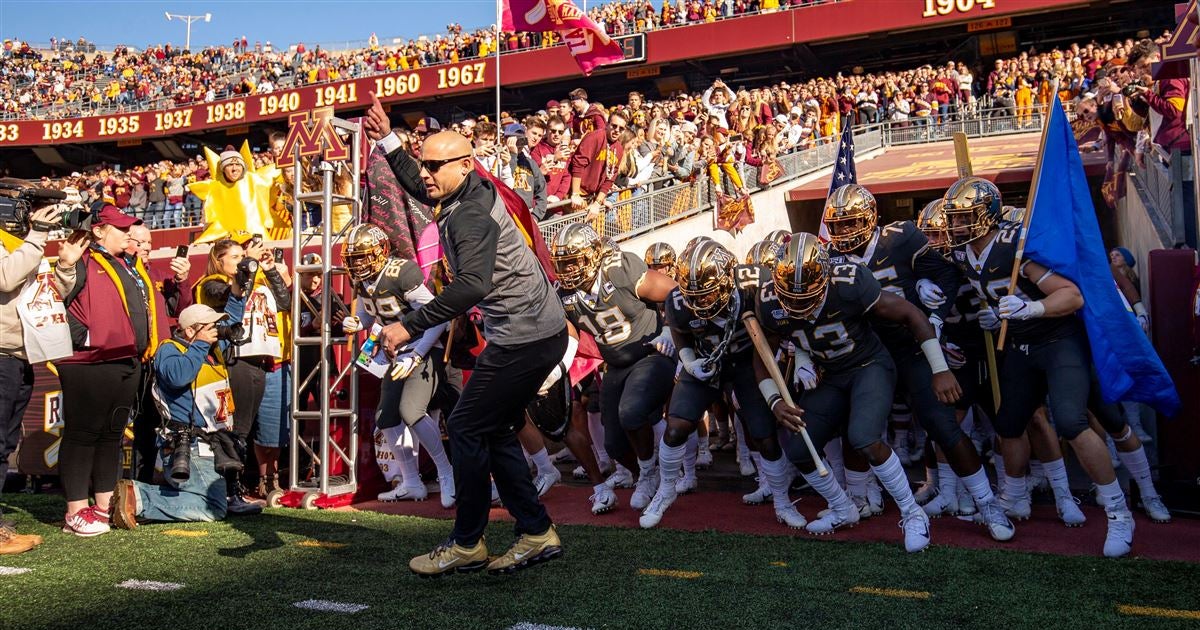 Since PJ Fleck took over the Gophers prior to the 2017 season, Minnesota's struggled against Iowa and it's no surprise that they've lost all three games, but it's more than that. If you look at the first half scores in those three contests, Iowa has a 32-point advantage at 55-23. And if you look even further at just the first quarter scores, Iowa has totaled 34 points to Minnesota's 7, a 27-point swing in the wrong direction.
The reality is that Fleck's team has struggled in the "game script" portion of the game against both Iowa and Wisconsin, and I don't think there's any coincidence that it's directly correlated to a 1-5 record in those six games. For those who are wondering what I mean by game script, college coaches have an opening set of 10 to 15 to 20 plays that they've scripted their offense / defense to run. Offensively, it's about what they've seen on tape from the opposing defense and how the offensive coordinator believes he can attack the defense for some early success. Defensively, it's about the same thing in what you've seen on tape from the offense in certain looks and you've got a game plan on how you want to attack that.
Iowa's just done a much better job of executing their game plan or scripts against Minnesota early in the game, and that can't happen for the fourth straight year against PJ Fleck's team.
—
Iowa has scored 31 first-quarter points the last two weeks, while they didn't allow a single point defensively. Minnesota's only scored 14 first-quarter points the last two weeks, while allowing 21 on defense, but I'd also note that the Gophers have totaled 42 points in their last two second-quarter performances. Either way, Minnesota's got to get things going early in this game if the narrative is going to change.
—
When you look back at the 2019 contest when an undefeated Gopher team lost to Iowa in Kinnick, where they lost the game was in that first 20 minutes where Iowa scores touchdowns on their first three possessions and the Gophers only managed three total points on their first three possessions, even though all three drives ended within the Iowa 33-yard line. For the remaining 40 minutes of that game, I'd say that Minnesota was the better team, but it didn't matter because that first 20-minutes were too big of a hole to dig out of.
So don't get put into an early hole. Match Iowa's intensity in the trenches, and the Gophers coordinators in Mike Sanford Jr. and Joe Rossi / Joe Harasymiak have to get their respective sides of the ball executing at a high level in the first 15 minutes of the game. They just have to, or it's going to be, "here we go again." as Iowa takes a 10-0, 13-0, 14-3 first quarter lead.
Offensively, I'd love to see Minnesota do something they haven't done much of through three games and that's be creative. Please don't have the opening three plays be "inside zone – right, outside zone – left and then try to find Bateman on a slant." Iowa knows that's coming, so do something different. Go play-action to the tight end across the middle who will bite on a play fake or get Autman-Bell deep on a double move. Just do something to throw Iowa's defense on their heels so they're thinking, and if the Hawkeye defenders are thinking, they're not playing fast and that's when you can come back to your bread and butter in the zone running game and the RPO looks.
But please Sanford. Switch it up early in this game with formations and play-calls, because if Iowa has shown anything against Minnesota, it's that they're ready for the RPO / zone running game. Iowa is the #1 run defense in the Big Ten through three weeks as they're only allowed opposing ball carriers to gain 2.6 ypc for a total of 102 rushing yards per game. Expecting to just grind Iowa's 2020 defense out with zone runs is not going to win you this game, even with Mo Ibrahim.
Here's the reality for Minnesota's defense three games into the season. They haven't been able to stop a running back. Opposing running backs have only carried the ball 56 times against the Gopher defense (roughly 19 per game), but they're averaging over 10 yards per carry doing it as they've totaled 563 rushing yards. That ain't going to win you a ball game against the University of Iowa as the Hawkeyes two running backs of Tyler Goodson and Mekhi Sargent are averaging 5.29 ypc through three games. It's Iowa. They want to run the ball, and usually they've been pretty successful at that over Kirk Ferentz's tenure.
So if I'm Joe Harasymiak, who will be calling the plays again this week with defensive coordinator Joe Rossi still in quarantine because of COVID-19, I'm absolutely selling out to stop the run. You have to, or else it'll be a chunk play against this front seven for a long score, or Iowa will just ball control this game and Minnesota's offense won't ever see the field. I'm keeping a safety in the box and putting Minnesota's two experienced corners in Coney Durr and Benjamin St-Juste in island / man-coverage for a majority of the game. Ihmir Smith-Marsette (one-time Minnesota commit) will be back on Friday after missing last week's game because of a DUI, and Brandon Smith is a talented receiver as well, but if Iowa wins because their young signal-caller puts together a complete game, then that's the way I'd want to go down.
—
Petras has been a game-manager at best in his first three games as the stats leave a lot to be desired. A 55% completion percentage with more interceptions than touchdowns (three picks to two scores) and his longest pass has went for 40 yards. If Minnesota can just find a way to somehow put Iowa into those "negative" game script situations that I talk about so much, it should in theory, bode well for this Gopher defense. It allows Boye Mafe, DeAngelo Carter and Esezi Otomewo to pin their ears back and get after a quarterback that's going to be a lot less mobile than what they saw the last two weeks in Coran Taylor and Taulia Tagoviaola.
But if Minnesota can't stop the run, and more specifically running backs, they're just not going to win this game. So if you're Harasymiak, you have to sell out to stop the run and trust in your corners of St-Juste and Durr in pass-coverage. Because if we've seen anything through three weeks, Sori-Marin and the linebackers need all the help they can get in the run game.
Death. Taxes. And Minnesota's special teams just not helping the rest of their team. If my memory is correct here, I believe that sentence has stayed in every Gopher Football game preview I've wrote for nearly 11 games straight now, if that gives you any indication of where things remain with this unit. But hey, let's be positive. The special teams unit didn't hurt the team last week more or less. Dragan Kesich returned and he could actually kick the ball to the goal line on kickoffs, and Mark Crawford made his punting debut with a punt inside the 15.
If you're expecting me to give this unit anymore love than that, let's not forget that Minnesota doesn't have a return game and they missed an extra point, so let's not get all high and mighty here, especially because Iowa's special teams are performing at a VERY high level right now.
—
Iowa's special teams currently rank as the 25th best in college football (via ESPN's SP+), where as the Gophers rank 90th in that same metric.
– Iowa is ranks first in the Big Ten in net yards per punt at 46.5 yards, where as Minnesota ranks dead last at 33.0 yards. That's a 13.5 yard difference, which is enormous in the field position game.
– Iowa ranks first in punt returns and punt return yards, and their punt returner in Charlie Jones returned one for a touchdown last week. Plus Iowa ranks second in kickoff return yards per return at nearly 25 yards.
—
So here's where it's at for Gopher Special Teams this week. You have all of your specialists back and healthy more or less, so it's time to perform.
– I'd love to see Mark Crawford let it loose and flip the field if given the chance. Reminder that the Gophers now have TWO 50 yard punts in their last 52 punts. That's sad.
– I'd love also to see Minnesota make a field goal of 41 yards or longer now that Lantz is back and healthy, and they don't have to have Brock Walker kick through a hernia. The stat that makes me cringe a bit is the Gophers have made one field goal of 41 yards or longer in TWO CALENDER YEARS. That was made by Emmit Carpenter in 2018 at Wisconsin. It's stretched now three seasons, and that's not good.
– Dragan Kesich needs to continue to keep the ball in bounds and kicking it to the goal line to keep Iowa from gaining field position.
—
In what Vegas believe it's going to be a tightly contested game, special teams are going to matter in this one, and it's yet another game for Minnesota where their opponent on paper is going to have an advantage.