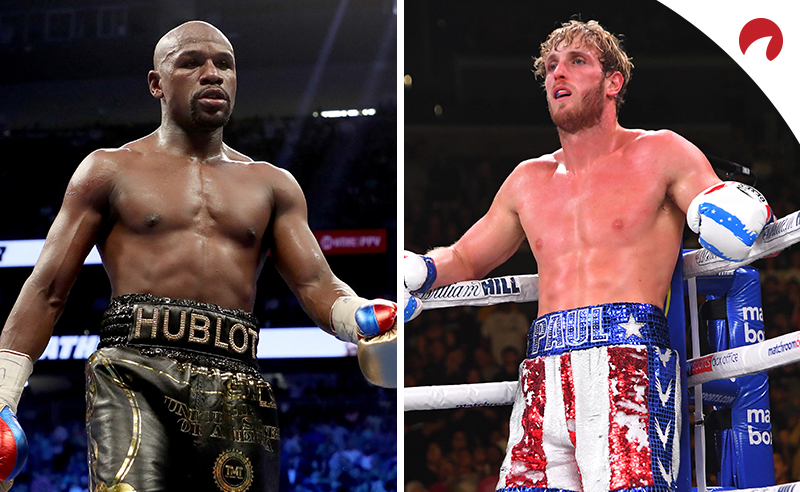 Arguably the greatest boxer of all time will be displaying his outstanding skills once again, as Floyd Mayweather Jr. took to social media to let us all in on who his next opponent is and when the fight will take place.
https://t.co/XC53S0ivef

— Floyd Mayweather (@FloydMayweather) December 6, 2020
That's right, YouTube star Logan Paul will be squaring off against Floyd Mayweather on February 20, 2021, in what is being coined a "super exhibition." With a quick look at the Paul vs Mayweather odds, it comes as no surprise that the 50-0 boxer, Mayweather, is a massive favorite and Paul, with his 22.6 million followers, is a huge underdog.
Of course, Paul has been called out recently on social media after his brother Jake knocked out Nate Robinson in the co-main event of the Mike Tyson vs Roy Jones Jr. card.
@LoganPaul pic.twitter.com/IUU6cwvYit

— Evander Kane (@evanderkane_9) December 2, 2020
As you can see, one of the guys to call out Paul was NHL star Evander Kane, though a dance with Mayweather will be a bigger draw and bigger payday for the older Paul brother. Although the rules and location are not announced, I will take a look at the Logan Paul vs Floyd Mayweather odds and provide a prediction for this fight.
Online sportsbook BetOnline has released the Logan Paul vs Floyd Mayweather odds and, not surprisingly, has listed Mayweather as a large -3500 favorite with Paul coming back as a +1200 underdog. This means you would have to wager $3,500 to profit $100 with a Mayweather win, while a $100 bet on a Paul win would profit you $1,200.
See Odds Shark's Best Boxing Sites
Logan Paul vs Floyd Mayweather Odds
| Fighter | Odds |
| --- | --- |
| Floyd Mayweather Jr. | -3500 |
| Logan Paul | +1200 |
Odds as of December 21 at Bovada
Looking at the Logan Paul vs Floyd Mayweather odds with our sports betting calculator, Mayweather's odds of -3500 have an implied win probability of 97.22 percent, while Paul's odds of +1200 have an implied win probability of 7.69 percent. Even that may be too generous in a boxing match against one of the greatest of all time.
Unsure of what the Paul vs Mayweather odds mean? Check out our handy boxing betting guide to help you get in on the action.
Paul vs Mayweather Odds Analysis
It isn't a good sign for Paul when Mayweather's previous shortest odds were -3000 in a bout against Andre Berto. He now has a -3500 line for this super exhibition. Paul has had one pro boxing match, in November 2019, when he lost a close split decision to KSI. So we have an 0-1 YouTube sensation up against a 50-0 boxer, which makes all the sense to see why the Logan Paul vs Floyd Mayweather odds are where they are.
Looking at Mayweather's odds history, you can see that he has been favored in each of his last 18 fights that we have lines for; twice, he was a favorite of -2000 or more. On that list, you can see the body of work that "Money" has run through, including Arturo Gatti, Oscar De La Hoya, Canelo Alvarez and Manny Pacquiao, to name just a few. Consider the threat each of those opponents posed to Mayweather and then consider that Paul's lone professional fight came against another YouTube star, KSI.
Now, if you are a typical $50 to $100 bettor, placing a bet on Mayweather is just not worth your time since a $100 bet on Floyd to win would profit you a whopping $2.86. You're best to hang on until closer to the fight when more betting props will be opened such as method of victory or the total number of rounds, where you will get much better value.
Mayweather vs Paul Betting Tips
With this being a "super exhibition" bout, one problem for me is the question of what weight they will fight at. Because it's an exhibition, perhaps there won't be an official weight limit. Logan Paul weighed in at 189.6 pounds vs KSI while Mayweather struggles to get over the 150-pound mark.
However, regardless of the weight, Mayweather is a far superior athlete and boxer who is extremely difficult to hit and knows all the tricks of the trade to make you look foolish – and that's exactly what he will do to Paul.
As mentioned above, a wager on Mayweather to win outright isn't worth your time and I would have to see how many rounds they decide to go to give you direction on a method of victory. If they do 10 to 12 rounds, Floyd by knockout is the pick for sure, because Paul will tire and Mayweather will not. If it's six to eight rounds, I'll probably go with a win by decision.
I must say that in Paul's two fights vs KSI (they fought once as amateurs), there were some things that he did well, specifically using his long jab to keep his opponent at bay. However, he gets excited when he does land a jab and then tends to wing wild overhand hooks afterward that rarely land. Also, due to this wild approach, his conditioning becomes an issue. If there are two things you can't do against Mayweather, it's throw sloppy punches or gas out.
Paul vs Mayweather Prediction: Floyd Mayweather (-3500) via knockout
Paul vs Mayweather Props
Although we are still quite far out from this fight, online sportsbook BetOnline has released three Paul vs Mayweather prop options to give you a little more to wager on for this bout.
Paul vs Mayweather: Who Will Bleed First?
| Fighter | Odds |
| --- | --- |
| Floyd Mayweather Jr. | +300 |
| Logan Paul | -500 |
Will Logan Paul Be Knocked Down?
| Outcome | Odds |
| --- | --- |
| Yes | -350 |
| No | +225 |
Will The Fight Go The Distance?
| Outcome | Odds |
| --- | --- |
| No | -250 |
| Yes | +170 |
So, there you have it. Keep checking out this page as we update it with the latest news, newly available betting props, and the latest tips to help you handicap the Paul vs Mayweather betting odds.