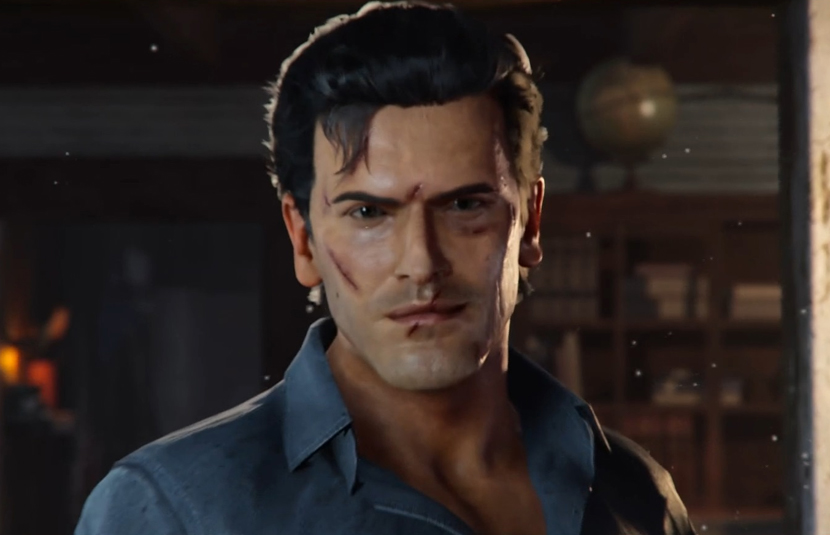 After being rumored to be appearing in Mortal Kombat 11, the titular hero of the Evil Dead franchise is instead starring in his own game. The game is coming from Boss Team Games and Saber Interactive and will be coming in 2021. You may recognize Saber Interactive as the team behind World War Z, so this franchise seems like a natural fit for them.
The trailer begins with Ash, voiced by the Chin himself, Bruce Campbell, recounting the events of the first (and technically second) film. What is very different though are the appearances of two other characters. While Ash appears to be his Evil Dead 2 version, he is accompanied by three other characters. The first being Arthur, clad in his knight armor from Army of Darkness and the second being Kelly from the TV series Ash vs Evil Dead. We have no idea who the fourth character is, and I honestly don't know why it isn't Pablo from Ash vs Evil Dead.
Unlike many of the trailers seen at The Game Awards, this one actually contains some gameplay. We can see that the game will be a third person shooter and feature multiple characters working together to survive and not be… dead by dawn (sorry, I couldn't resist). According to a press release the game will have players work together to seal the breach caused by the Necronomicon. However players can also take control of a Kandarian demon to hunt down Ash and the other survivors. The demon can also posses other Deadites, the environment, as well as other survivors in traditional Deadite fashion.
[embedded content]
Hail to the King, baby!
Players will be able to battle in iconic locations from the series and collect weapons and learn new skills and abilities. The fact that the game is taking from all across the franchise is a very exciting prospect. Perhaps we could even see Mia from the fantastic reboot/sequel Evil Dead from 2013. The last Evil Dead game came out in 2005 with Evil Dead: Regeneration. While that is the "best" Evil Dead game to date (trust me, the bar wasn't set very high) this might be the first real chance for the series to get the game it so rightfully deserves. All I can say is… groovy.